Electricity costs often represent the largest operating costs item for operators of data centers. Efficient energy use saves resources, generates an image boost, and contributes to successful positioning in competition.
This is the objective of the Trusted Site eEfficiency (TSe2) audit and certification program of TÜViT. It supports the operators of data centers in developing systems and processes that allow the continuous improvement of their energy efficiency.
Reduction of energy costs
The Trusted Site eEfficiency (TSe2) certification program of TÜViT defines measures and structures based on the international standard for energy management systems (DIN EN/ISO 50001). With Tse2, TÜViT offers periodic inspections with certification of the maturity level. This identifies savings achieved, and promotes sustained optimization of energy efficiency.
Maturity level certification
The certification process does more than just determining the status quo. Thanks to the increasing requirements during maturity level certification and the introduction of an energy management system, companies continuously optimize the use of energy resources.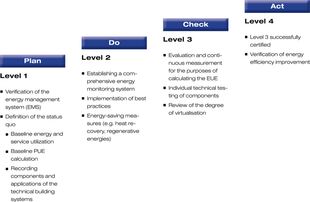 assessment of the existing energy management system (EMS)
verification and evaluation of an energy monitoring system
calculation of the values power usage efficiency (PUE) and energy usage efficiency (EUE)
implementation of best practice measures, integrating the EU "Code of Conduct"
verification of inventory of servers and applications, and energy-consuming components
assessment of the degree of virtualization
assessment of server capacity utilization and effectiveness
Your benefits at a glance
optimization of energy use and thus reduction of energy costs
systematic inventory of energy-consuming components/devices
competent support in the development of structures for a continuous improvement process
TÜV verification regarding the use of an energy management system, and thus where appropriate the use of benefits resulting from statutory boundary conditions
possible expansion of the energy management system to the entire company, and subsequent simplified ISO 50001 certification
image boost through saving energy resources
audit of all your individual disciplines (power supply, cooling technology, etc.) by an interdisciplinary team of experts
audit and certification by the market leader
added-value from strong TÜViT brand
Trusted Site Energy Efficiency: for a continuously optimization of the use of energy resources.