Up to now, there have been numerous guidelines for the planning, construction and operation of data centers. Even in combined form, they hardly allowed a holistic view. Since 2016, the European standard EN 50600 has been providing more clarity for both operators of data centers and cloud infrastructures as well as for their customers.
Nevertheless, the question remains open as to whether data centers can be certified according to the EN 50600. The answer can be found here.
The EN 50600 is the first European-wide, transnational standard that provides comprehensive specifications for the planning, construction and operation of a data center with a holistic approach. It defines requirements in the criteria aspect construction, power supply, air conditioning, cabling, security systems and specifies criteria for the operation of data centers. The EN 50600, which was created by the European standardization organization CENELEC (European Committee for Electro technical Standardization), offers various degrees of freedom and is, up to a certain point, a modular system. First and foremost, EN 50600 is a standard that is applied to new data centers. It defines the need for expert opinions and analyses during the design and construction work.
While the ISO management standards, e. g. ISO/IEC 27001, which are equally relevant in the data center environment, focus on the organizational and process level, the requirements of EN 50600 focus on physical security. Among a multitude of guidelines and best practices, this standard, which is valid throughout Europe, is something special in that the results have been developed in a Europe-wide standardization and coordination process.
Whitepaper download: What you need to know about the EN 50600
Our free whitepaper is focused on providing an overview of the European standard for data centers EN 50600 and how a data center operator can reach a conformity to the standard.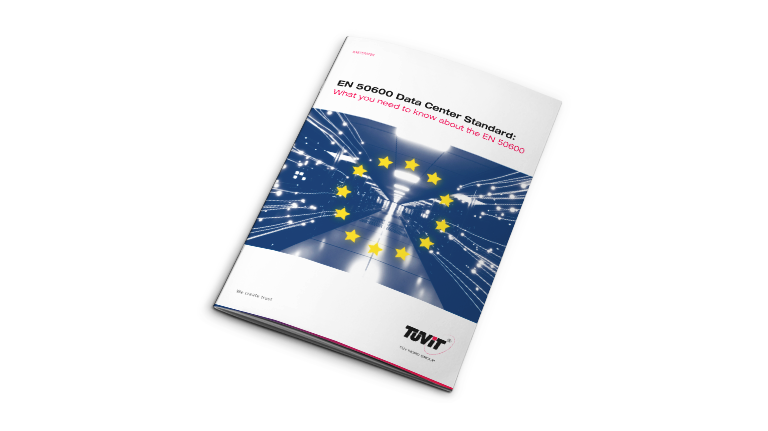 Download with restricted access
Please fill the form below to download the file "TÜViT whitepaper: what you need to know about the EN 50600". In connection you will receive an email with further instructions to start the download.
Can data centers be certified according to the EN 50600?
Although the EN 50600 is not primarily designed as an evaluation method, it is more of a guideline. For certifications based on the EN 50600, the challenge lies in the interpretation of this guideline, which can only be reliably achieved with a corresponding criteria catalog.
An established standard in the data center environment is, for example, the TSI.STANDARD (Trusted Site Infrastructure), a criteria catalog developed by TÜViT since 2001, in which the specifications of the EN 50600 have been additionally taken into account since March 2016. Since the TSI.STANDARD stands in particular for high availability and clear comparability of data centers, it provides more detailed and supplementary specifications in certain areas. For this reason, a dedicated criteria catalog has been developed in 2017 specifically for the EN 50600, in order to serve the more risk-based approach according to the EN 50600: the TSI.EN50600 criteria catalog.
With the EN 50600 certification of data centers on the basis of the new TÜViT criteria catalog TSI.EN50600, TÜViT is responding to the growing demand for EN 50600 certificates, especially from other European countries. TSI.EN50600 adopts the proven method from the TSI.STANDARD and maps the contents of all target requirements of the EN 50600, Parts 1-3, into criteria. TSI.EN50600 thus makes the standard designed as a guideline testable and certifiable. The certificates document that the data center
is conform to the EN 50600,
has implemented one of four availability classes,
has implemented at least protection classes 1-3 and
has the energy efficiency at one of three levels of granularity.
TSI.EN50600 was revised with version V2.0 at the beginning of 2020 and takes into account the standard revisions published in 2019.
TSI.EN50600 V2.0 is valid from April 2020. Version V1.0 can continue to be used as the basis for certification for a period of three years from the publication of V2.0
What does the EN 50600 cover in detail? Structure and scope of the EN 50600
The standard is divided into four subsections:
Part 1: General concept
Part 2: Physical aspects of structural issues relating to the building, up to and including energy, cabling and security aspects
Part 3: Management
Part 4: Efficiency aspects such as KPIs, energy consumption and renewable energies
EN 50600 has been rolled out since 2012 in ten parts and subsections:
EN 50600-1: General aspects for design and specifications
EN 50600-2-1: Building construction
EN 50600-2-2: Power distribution
EN 50600-2-3: Environmental control
EN 50600-2-4: Telecommunications cabling infrastructure
EN 50600-2-5: Security systems
EN 50600-3-1: Management and operational information
EN 50600-4-1: Overview of and general requirements for key performance indicators
EN 50600-4-2: Power Usage Effectiveness
EN 50600-4-3: Renewable Energy Factor
The availability classes of EN 50600 are applied to power supply, cooling supply and cabling. According to EN 50600-1, the classes differ as follows (the exact distinction can be found in the criteria catalogue TSI.EN50600):
Availability class 1
Low availability. Design without redundancies based on a supply path.
Availability class 2
Medium availability. Design with partial redundancies based on a supply path.
Availability class 3
High availability. Design with redundant components based on multiple supply. paths. Solution for maintenance during operation.
Availability class 4
Very high availability. Design with system redundancies based on multiple supply paths. Fault tolerant except during maintenance.
The protection classes describe properties of rooms with regard to
unauthorized access,
internal environmental events (e. g. fire),
external environmental events.
What are the benefits of EN 50600?
With the EN 50600, data center operators have for the first time a transnational and comprehensive standard.
It enables data center operators to plan, operate and expand their data centers in a future-proof manner using state-of-the-art technology.
It provides security when designing new data centers, especially when certification becomes part of the tendering process.
Internally ensures and improves the quality of their own project management.
What services does TÜViT offer relating to EN 50600?